[custom_frame_right]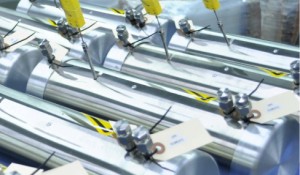 [/custom_frame_right]Power+Energy Hydrogen Separators produce ultra-high purity hydrogen from hydrogen rich gas streams for Fuel Cells.  Each H2 separator may be custom designed to match the specific conditions of the customer's application.  Power+Energy manufactures H2 separators ranging in hydrogen output from 0.5 slpm, capable of feeding a 50W fuel cell, up to 1,200 slpm, capable of feeding a 120kW fuel cell.
Our Separator technology is often used to extract the hydrogen from reformate streams generated by steam or auto-thermal reformers.  In other cases P+E Separators extract H2 from a process by-product stream, from bio-gas (digesters, etc.) or from closed-circuit H2 recirculation systems.[custom_button text="H2 Separator Brochure" title="Hydrogen Separators" url="http://powerandenergy.com/pdfs/hydrogen-separators.pdf" size="medium" bg_color="#FF5C00″ text_color="#FFFFFF" align="right" target="_blank"]
Design and Operation
Power+Energy Hydrogen Separators use Micro-Channel Palladium Alloy Membranes to extract hydrogen from the feed stream. For mixed gas streams containing sulfur compounds, a sulfur-tolerant palladium alloy is used.  In some applications, customers use a sweep gas, either nitrogen or steam, to boost the hydrogen recovery of the H2 separator.
[toggle_content title="H2 Separator Operating Parameters"]

[custom_frame_right][/custom_frame_right] Basic Terms:
Reformate: Outlet gas mixture from Fuel Reformer
Raffinate: Waste gas stream out from separator
Permeate: Ultra-pure hydrogen stream from the separator
Operating Parameters:
Maximum reformate inlet pressure = 300 psig
Operating temp range = 300-500°C, recommended temperature = 400°C
Maximum pressure differential = 180 psi (reformate press. – permeate press.)
Maximum reverse pressure differential = 10 psi (permeate press. – reformate press.)
Membranes should not be exposed to H2 when below 300 °C to avoid embrittlement.
It is recommended that a backpressure regulator is installed in the raffinate line.
Preheat membranes with steam, hot air or hot inert gas prior to flow of H2 or reformate.
Purge membranes with steam or inert gas prior to allowing membranes to cool below 300°C.
It is recommended to monitor the raffinate outlet gas temperature in order to ensure that the membrane temperature remains above 300 C while h2 containing gases are flowing through the separator.
[message type="warning"]Caution: It is essential that catalyst particles from the reformer are prevented from entering the hydrogen separator.[/message] [/toggle_content]
Ordering Hydrogen Separators
Power+Energy will be pleased to design and manufacture H2 separators to meet your specific process condition.  Please click here to launch our Hydrogen Separator Requirements Form. Complete the form, and a P+E Design Engineer will contact you.
[custom_button text="Go to the Separator Information and Order Form" title="Go to the Separator Information and Order Form" url="http://www.powerandenergy.com/separator-reactor-order-form-information/" size="large" bg_color="#FF6600″ text_color="#FFFFFF" align="center" target="_blank"]
Product Applications
[udesign_recent_posts title="" category_id="18″ num_posts="10″ post_offset="0″ num_words_limit="23″ show_date_author="0″ show_more_link="0″ show_thumbs="1″ thumb_frame_shadow="1″ post_thumb_width="100″ post_thumb_height="80″]