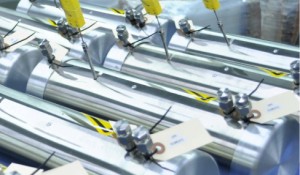 Power+Energy Hydrogen Separators produce ultra-high purity hydrogen from hydrogen rich gas streams for Fuel Cells.  Each H
2
separator may be custom designed to match the specific conditions of the customer's application.  Power+Energy manufactures H
2
separators ranging in hydrogen output from 0.5 slpm, capable of feeding a 50W fuel cell, up to 1,200 slpm, capable of feeding a 120kW fuel cell.
Our Separator technology is often used to extract the hydrogen from reformate streams generated by steam or auto-thermal reformers.  In other cases P+E Separators extract H
2
from a process by-product stream, from bio-gas (digesters, etc.) or from closed-circuit H
2
recirculation systems.
H2 Separator Brochure
Design and Operation
Power+Energy Hydrogen Separators use Micro-Channel Palladium Alloy Membranes to extract hydrogen from the feed stream. For mixed gas streams containing sulfur compounds, a sulfur-tolerant palladium alloy is used.  In some applications, customers use a sweep gas, either nitrogen or steam, to boost the hydrogen recovery of the H2 separator.
Ordering Hydrogen Separators
Power+Energy will be pleased to design and manufacture H2 separators to meet your specific process condition.  Please click here to launch our Hydrogen Separator Requirements Form. Complete the form, and a P+E Design Engineer will contact you.
Product Applications